This postcard of the Miller Cottage Inn from the 1930's left us puzzled.  It shows a building that looks suspiciously like the Mira Monte, or Orlando Ash Cottage as it was then known.  The similarities are notable, right down to the Greek-style portico, the stacked bay windows and even the sloped driveway to the right of the building.  Like Mira Monte, Miller Cottage Inn was said to have been on Mt Desert Street.  Could the Miller Cottage Inn and the Mira Monte have possibly been one and the same? The known history of Mira Monte offered no clues.  If the buildings were not the same, we wondered, who would build a home that was virtually identical, and on the same street?  Adding to the confusion, most of the pictorial archives of Bar Harbor depict a Miller Cottage that was an entirely different building, a much larger 4 story hotel.
After much painstaking research, Bar Harbor historian Brian Armstrong has unraveled the mystery:
"The original Miller Cottage was built in the early 1880s for Henry H. Miller from Tremont. The completed cottage resembled the Mira Monte because Miller was Orlando Ash's brother-in-law, and they most likely used the same plans and builder. Miller was married to Orlando Ash's wife's sister, Fanny Welch. Miller and Orlando Ash both lived in Tremont in the 1870s and moved to Eden (Bar Harbor) in the early 1880s. The Miller Cottage was destroyed in the 1947 fire."
So, Mira Monte once had a twin just a few doors down the street!  After the fire of '47. Mira Monte alone remained as the surviving sibling.  In the following photo from the 1880's, both Miller Cottage and Mira Monte can be seen.  Miller Cottage appears toward the front of the image behind the tree on the left side of t he street.  Mira Monte (Ash Cottage) can be seen 4 doors down behind a home with a small tower.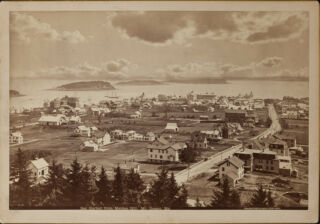 The photos of the "other" Miller Cottage are of the hotel that took the cottage's place following the fire.  The second Miller Cottage appears below.