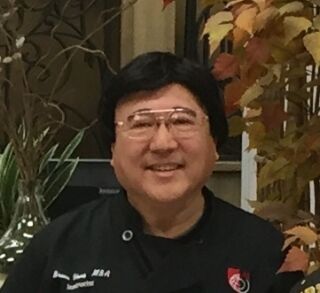 Making cookies- what better way to spend an afternoon at home! It just so happens that our innkeeper Bruce is a former chef and culinary instructor.  Over the next few weeks he'll be sharing a few of his favorite recipes along with some goodies from the collections of the Mira Monte.  Here's one we think you'll really enjoy:
Spumoni Shortbread Cookies- makes about 24 cookies
Inspired by the Classic Italian Gelato Treat.  In this simplified version, all ingredients are combined so there's no need to divide and color dough- but you can if you want!
Ingredients
3/4 lb unsalted butter, softened to room temperature
1 cup sugar
1 1/2 tsp vanilla extract
3 1/2 cups all purpose flour
1/4 tsp salt
3/4 cup shelled pistachios, finely chopped
3/4 cup dried cherries or cranberries, finely chopped
2 tsp lemon or orange zest (optional)
Procedure
Preheat oven to 350° F. In the bowl of an electric mixer with a paddle attachment, cream together butter and sugar until just mixed (you can mix by hand- you'll develop great biceps!). Add vanilla and lemon zest.
In a medium bowl, sift together flour and salt, add to the creamed butter and sugar mixture. Add cherries and pistachios and mix on low speed until the dough begins to form.
Turn the dough out on floured work surface and shape the dough into a flat disc. Wrap the dough in plastic and chill for 30 minutes. Roll the chilled dough out to a thickness of 1/2″. Cut into 2″ squares with a sharp knife, or use cookie cutters to create any shape you'd like.
Place the cookies on an ungreased cookie sheet. Bake for 20 to 25 minutes or until the edges begin to brown. Cool to room temperature and you're ready to serve!
Tip: To scale this or any other recipe, divide the desired yield by the yield of your original recipe. The result is a fraction or ratio that you will use to multiply the amount of each ingredient in the original recipe. To use a very simple example, let's say your recipe will produce 100 cookies, but you need 200 cookies for your  upcoming party.  200/100 = 2. Multiply every ingredient in your original recipe by 2 to produce 200 cookies. This is a very simple and intuitive example, but the same principle applies no matter how many cookies you need or how many cookies the original recipe produces. For example, if your original recipe produces 75 cookies but you need 275, then 275/75 = 3.7.  Multiply every ingredient by 3.7. You will probably want to round this up to 4 just to make things easier and have a few cookies left over for yourself!