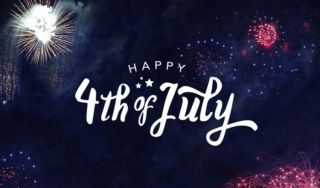 The Bar Harbor 4th of July has been voted the #1 Fourth of July celebration in America by the Today Show and as one of the top ten in the U.S by National Geographic.  There's a full day of events and so many ways to enjoy Maine's Bar Harbor 4th of July.
Bar Harbor 4th of July Schedule of Events
6AM-10AM Blueberry Pancake Breakfast – Bar Harbor Rotary Club, Bar Harbor Athletic Field, Park Street. A  morning feast for the whole family, more info.
6AM-9AM Start Times – Around Mount Desert Island Relay, Crow Athletics – 100-kilometer relay route around Mount Desert Island, more info.
7:30AM-2:30PM Bar Harbor Nonprofit Showcase – Bar Harbor Rotary Club, Bar Harbor Athletic Field, Park Street.  A variety of Maine nonprofits sell goods, raffle items and provide info about their organizations.
9AM-3PM Craft Fair Marketplace at the YMCA, 21 Park Street, a wonderful selection of local crafted goods, for more info or call the YWCA at 207-288-5008.
10AM Independence Day Parade – The community shows off its patriotism and good humor, the parade route winds through downtown Bar Harbor from Main Street to Cottage Street to Eden Street to Mt. Desert Street to Ledgelawn Avenue. DOWNLOAD A PARADE MAP!
11AM-2PM Seafood Festival – Bar Harbor Rotary Club, Bar Harbor Athletic Field, Park Street. Lobster, mussels, corn, strawberry shortcake and more at the area's largest seafood festival, more info.
After the Parade, MDI YMCA Annual Lobster Races – Bar Harbor Athletic Field, Park Street. Watch local businesses put their lobsters to the test. For more information contact the YMCA at 207-288-3511 click here for more info.
11:30AM-2PM MDI Seafood Festival Entertainment – Free live concert during the Seafood Fesitval. Family-friendly
3:30PM-9PM Live Music @ Harborside Concert Series – Free concert series in Agamont Park leading up to the fireworks.Performers are: Tricia Mason Band at 3:30pm, Blake Rosso Band at 5:30pm, and The Crown Vic are on at 7:30pm.
7:30PM-8:30PM Bar Harbor Town Band – Free concert on the Bar Harbor Village Green, Main & Mt. Desert Streets. For over 100 years the Town Band, comprised of amateur musicians from around the region, has entertained thousands of locals and visitors.
9:15PM (approx.) Fireworks Over Frenchman Bay – Enjoy the spectacular display on the waterfront, downtown Bar Harbor. Sponsored by Ocean Properties and the Bar Harbor Chamber of Commerce.