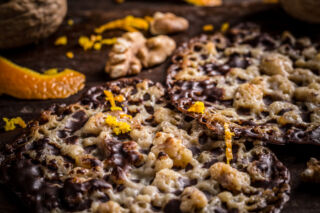 Stay at Home Recipes- Almond Florentine Cookies- makes about 2 dozen cookies
Ingredients
1 C blanched whole almonds (slivered or sliced almonds can be substituted)
¾ C all purpose flour
1 Tbsp orange zest
1/8 tsp fine salt
½ C fine sugar
½ C or 1 stick unsalted butter, softened to room temperature
2 Tbsp heavy cream
2 Tbsp light corn syrup
½ tsp vanilla extract
1 C semi-sweet chocolate chips
Procedure for Chocolate
Microwave ½ C chocolate chips in small oven-proof glass bowl on high for 20 seconds.  Stir.  Add remaining chips and microwave for 20 seconds more.  Stir until smooth.
Procedure for Cookies
Preheat oven to 350° F
Pulse whole almonds in a food processor to a fine meal (or pulse slivered or sliced almond to the desired texture). Pulse in flour, orange zest and salt until just combined
In a medium saucepan, mix sugar, butter, cream and corn syrup together. Cook over medium heat until sugar is dissolved.
Take off heat and stir in vanilla. Pour into dry ingredients.  Mix thoroughly.  Set aside until cool enough to handle.
Round tablespoon sized pieces of dough into balls. Place on parchment paper 3" apart to allow for spreading.  With wetted fingers, pat down gently.
Bake cookies until thin and golden, about 10-12 minutes. Turn pan in the half way through cooking time.
Remove from oven and allow to rest for at least 5 minutes. For best results, remove cookies from baking sheet and place on a wire cooling rack.
Place cooled cookies closely spaced on parchment paper. Dip a whisk, honey dipper or fork into the melted chocolate mixture and coat generously.  Using a back and forth motion, drizzle chocolate over the cookies.  Set aside until chocolate has hardened.  Enjoy!
Tip:  A silicone baking mat is perfect for florentines.  In addition to it's non-stick properties, the mat will also help to distribute heat evenly.
Need a break after the crisis ends?  Reservations now being accepted for summer!  Book now at http://www.miramonte.com