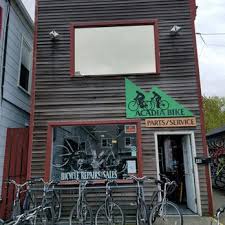 Acadia Bike offers a $3.00 per person discount on their already budget-friendly rates for rentals.  Acadia Bike caters to families, providing a huge selection of children's bikes, tag-along attachments and child trailers. You can ride directly into Acadia National Park or use one of their convenient car racks; the free Island Explorer Bicycle Express shuttle is not running in 2020 due to Covid-19. And in the infrequent case of a flat tire or mechanical difficulty, Acadia has a "rescue" team on duty all day. You'll never be stranded with Acadia Bike.
Though we have hundreds of bikes in our fleet, we often strip our racks clean, so we advise reservations. Just give us a call at 800-526-8615 and we'll get you all set up for the dates you choose.
Our reasonable rates and expert service have made us the industry leader for more than three decades. Don't forget to mention that you're a guest of the Mira Monte!