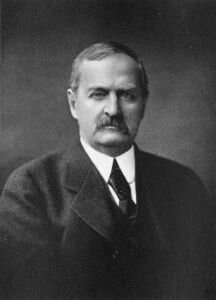 Mira Monte History:  In 1890, eminent Philadelphia physician and naturalist Henry C. Chapman bought the Ash Cottage from Orlando Ash to use as a permanent summer residence. Among his many distinctions, Dr. Chapman had been Professor of Medicine and Medical Jurisprudence at Jefferson Medical College and served as curator of Philadelphia's Academy of Natural Sciences from 1875 until his death. Upon purchasing the cottage, Dr. Chapman and his wife Hannah added the Greek portico and columns that now surround the porch and renamed their estate Mira Monte, meaning "behold the mountains".
Mrs. Chapman enjoyed entertaining, and Mira Monte was to become something of a social hub in those days.  While not unknown to the society pages of the era, Dr. Chapman is remembered in Bar Harbor as first and foremost a humble and amiable man of science who "endeavored in every way in his power to minimize the distinction between the summer colony and the year-round residents" of the village.  As recalled in memorium in the Journal of the Academy of Natural Sciences:
"Here for nearly thirty years he pursued his studies of the flora and fauna of Mt. Desert island, the latter in a little laboratory on the water's edge. Here the fishermen, all his devoted friends, brought whatever of interest they succeeded in securing from the waters."
Chapman was also to play an active role in the civic life of the town and became a director of the local library.
After Dr. Chapman's sudden death at the home in 1908, likely from a gastric ulcer, his widow continued in the role of hostess until her passing on Christmas day, 1931, exactly 90 years ago.