The Mira Monte Inn and the Maine Innkeepers Association (MEIA) announces the  Annual Hospitality for Habitat program. This program is designed to raise funds for local chapters of Habitat for Humanity while encouraging travel in Maine in the Spring season.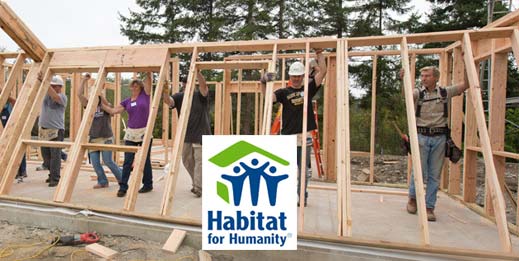 The offer is very simple. Starting May 1, 2020 and ending May 31, 2020, make a check payable to Habitat for Humanity for $35.  Reserve 2 nights at the regular rate and the third night is on us (guest pays for applicable taxes).  Present your check to the innkeeper when you arrive.
These funds will be distributed among the ten local chapters of Habitat for Humanity. Habitat for Humanity International is a Christian ministry dedicated to eliminating poverty housing. Founded in 1975 by Millard Fuller, along with his wife Linda, Habitat for Humanity International and its affiliates in more than 3,000 communities in 92 nations have built more than 300,000 homes for partner families around the world. Their website is www.habitat.org.
Reservations must be made in advance, and the contribution to Habitat for Humanity must be in the form of a check.
Habitat for Humanity May Special:
As we have done for many years, since Marian founded the program for B&Bs in the state of Maine, our Habitat for Humanity deal is back. Here's how it works:
Book two nights (or more),
Pay for the first night in full and the tax on the second night,
Bring us a check for $35 made out to Habitat for Humanity (don't send the check to Habitat, and don't make the check out to us),
Get the room rate for free on the second night of your stay (again, you need to pay the taxes on the second night).
You can also do this for four nights if you bring a check for $70. Just pay in full for two nights and pay the taxes for the two free room-rate nights.
If you stay an odd number of nights (3, 5, etc.) then you're responsible for paying for that odd night in full.
This offer cannot be book online. You must call us at 207-288-4263. Leave a message if we don't answer. If you book online, you'll be charged the standard deposit. We can still do the Habitat Special retroactively if you book online, but you'd need to call us or send us an email to let us know to adjust your credit card, which we can do. We cannot take reservations by email.
This offer cannot be combined with any other offer or discount.
This offer cannot be applied to groups of more than one room. To do more than one room, a separate reservation must be made for each room booked.