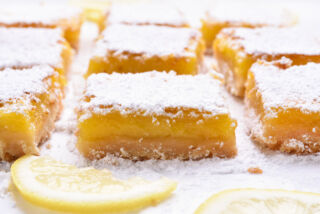 These tart and tasty lemon bars are sure to hit the spot!
Crust Ingredients
1/4 lb unsalted butter, softened to room temperature
1/4 C granulated sugar
1 C + 2 Tbsp all purpose flour
1/4 tsp salt
Lemon Curd Filling Ingredients
5 large eggs
1 C granulated sugar
Zest of 3 lemons
1/2 C freshly squeezed lemon juice
1/2 C all purpose flour
Powdered sugar, for dusting
Procedure for Crust
Preheat oven to 350° F.
In a small bowl, combine flour and salt.
In a larger bowl, cream together butter and sugar until light and fluffy
Add the flour mixture to the creamed butter and sugar and mix until just combined.  Mixture will have a crumbly texture.
Turn dough out onto a floured work surface and gather into a ball.
Place into a 9″ x 13″ baking dish and press evenly on the bottom all the way around and 1/2″ up the sides
Chill for 15 minutes.
Remove from refrigeration and bake for 15 to 20 minutes or until lightly browned, remove and allow to cool completely.  Keep the oven on.
Procedure for Lemon Curd and Assembly
In a large bowl whisk together eggs, sugar, lemon zest, lemon juice and flour.  Pour over cooled crust.
Place into oven on center rack and bake for 30-35 minutes or until filling has set.  Remove from oven and allow to cool completely.
Sprinkle with powdered sugar, slice and enjoy!
Now Accepting Reservations for Summer!  Book Now at http://www.miramonte.com