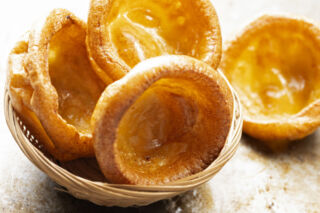 Stay at Home Recipes- Popovers! makes 10-12 medium popovers
Maine's shelter-in-place directive has been extended until the end of May, so it looks like we'll all be doing a lot more baking!  You'd pay quite a bit for popovers at the local eateries, but you can make them yourself for just pennies. When it comes to popovers, success isn't about fancy ingredients, it's all about technique! It took me a few tries to come up with a recipe that I could live with, but I think this one's a keeper.  These popovers are nice and crusty on the outside, soft, light and eggy on the inside, with a nice cup-like shape.  Enjoy!
Vegetable oil to coat pan
3/4 C all purpose flour
½ to ¾ teaspoon salt according to taste
2 eggs, lightly whisked
1 1/4 C milk
2 Tbsp butter
1/2 tsp worcestershire sauce
Preheat oven to 450° F. Pour about 1 Tbsp cooking oil into each well of a muffin pan, generously coating the bottom and sides. Place in preheated oven for 5 minutes or until oil is hot.
Combine the flour and salt in a bowl. Mix to combine.
Combine the milk, butter and worcestershire in a microwaveable bowl and microwave for about 1 minute, allowing the butter to melt completely. Mixture should be warm but not hot.  Add eggs and whisk to combine.
Gradually add the flour to the milk mixture and whisk until just combined. The mixture will be thin and a little lumpy- don't over mix or a rubbery texture will result.
Pour batter into the hot muffin pans filling each cup halfway. Bake in oven for 10 minutes until the batter has puffed up and set.  Reduce the temperature to 350° F  and continue to bake for 15 to 20 minutes more until golden brown.  Serve immediately with jam and butter.
Tips:
When making popovers, steam is the sole leavening agent so a hot oven and pan are imperative.
Heating the butter with the milk in a microwave results in a firmer crust that will resist deflating.  Cold milk will yield lighter, souffle-like popovers.
Try adding some chopped herbs, blueberries or a little cheese for a creative twist.